Michal Drmota, M.D.

Ophthalmologist, surgeon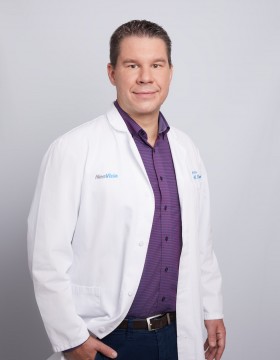 MUDr. Michal Drmota has been working at the NeoVízia Eye Clinic Bratislava since September 1, 2019, where he deals with complex diagnosis and treatment of eye diseases. He performs painless cataract surgery, PRELEX, plastic surgery of the upper eyelids and other minor procedures around the eye.
MUDr. Drmota is a graduate of the Medical Faculty of Comenius University (2005). In 2011, he obtained a "European" attestation in ophthalmology at the Department of Ophthalmology of SZU.
In 2005-2006 he worked at the Department of Radiology of the University Hospital Brno, from 2006 to 2019 at the Department of Ophthalmology of SZU and UNB in Bratislava - Petržalka.
At the Eye Clinic, he mainly dealt with cataract surgery, corneal transplantations, oculoplastic surgeries, corneal diseases and oncological issues in ophthalmology. He has worked in refractive surgery at the Excimer Eye Center.
MUDr. Drmota actively participates as a lecturer at professional congresses not only in Slovakia but also abroad.
He also fit into the NeoVízia team in connection with our motto "We believe in what we do", as he underwent laser eye surgery in 2010.