A thousand patients have already undergone a removal of cataract without a scalpel
09.11.2014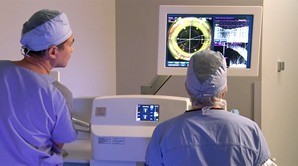 The world renowned method has had success in Slovakia and the Czech Republic, as well. The cataract surgery, using a femtosecond laser, makes the patient´s stay in the operating room much shorter and lowers multiple risks. The effective treatment, which we have brought to Slovakia and the Czech Republic as the first eye clinics, was already successfully performed on 1007 Slovak and Czech patients.  
Thanks to the most modern femtosecond laser LenSx®, the eye surgeon does not need to use any more sharp instruments during the procedure. The patients benefit from a new level of comfort, accuracy and gentleness. The whole laser surgery on cataract is strictly individualized. The surgeon chooses all of the parametres of the surgery based on the individual patient. Thanks to this, the actual laser procedure only takes 40 – 50 seconds.
Eye surgeons all over the world have already performed surgeries on 250.000 eyes using the LenSx® laser. Patients can undergo the laser removal of cataract in 65 countries and on 650 lasers, and they will be taken care of by 2800 trained eye surgeons. In Slovakia, the femtosecond laser LenSx®  is so far used only by the eye clinic NeoVízia and in the Czech Republic by the eye clinic DuoVize.
Studies have shown that the laser is ten times more precise than a human. "Patients have been asking us for years, if it is possible to operate on cataract using a laser. Now we can finally tell them: yes," say our surgeons MUDr. Radovan Piovarči and MUDr. Lubomír Továrek. The first surgery on cataract with the help of a femtosecond laser LenSx was performed by them at our Prague clinic DuoVize Prague in April 2012. In Slovakia, this revolutionary surgical method is being used since January 2013. Since then, the surgeons at both our Slovak and Czech clinics have operated on more than a thousand satisfied patients.